Live Healthy and Be a Blessing to Your Heart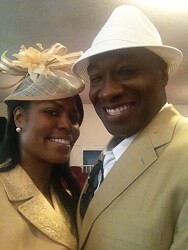 Michael Clarke Duncan was full of life just three years ago. The then-54-year-old actor was at the pinnacle of his career. His Academy Award-nominated performance as John Coffey in The Green Mile is still revered.
Then, tragedy struck. Duncan suffered a heart attack on July 13, 2012. Despite the heroic efforts by his fiancée, reality TV star and minister Omarosa Manigault, who initially saved his life, he never fully recovered and died two months later.
During February, American Heart Month, the life of Michael Clarke Duncan is a glaring example of someone on top of the world, felled by heart disease — the leading cause of death for African Americans. Cancer, stroke and diabetes are close behind.
>> Get the latest news in our AARP Health Newsletter
Duncan's heart attack may have been related to heredity. But it is important to underscore that heart disease can often be avoided by healthy lifestyles.
The New England Journal of Medicine (NEJM) reports that the rate of heart failure among African Americans is much higher than among whites and other races. Heart failure means that the heart rate declines and the organ becomes unable to pump blood as it should. Before age 50, the heart failure rate for African Americans is 20 times higher than for whites, according to NEJM. This is attributed to several reasons, but a key one is that African Americans receive less quality health care, such as visiting a primary care physician without seeing a cardiologist.
But there is always hope when there is a willingness to break old habits. Here are a few tips offered by the Centers for Disease Control and Prevention for ways that you can be a blessing to your heart:
• Eat a healthy diet. Choose healthful meals and snacks, including plenty of fresh fruits and vegetables.
• Eat foods low in saturated fat and cholesterol and high in fiber. They can help prevent high blood cholesterol.
• Limit salt or sodium in your diet. That can also lower your blood pressure.
• Maintain a healthy weight. It will help you avoid risks for heart disease.
• Exercise regularly. Physical activity helps maintain healthy weight and lower cholesterol and blood pressure.
• Don't smoke. Cigarette smoking greatly increases your risk for heart disease.
• Limit alcohol use. Too much alcohol causes high blood pressure.
• Get regular checkups.
>> Get discounts on health services with your AARP Member Advantages.
American Heart Month was established to promote awareness of heart disease. But it is also an opportunity to recommit to healthy eating and a healthy lifestyle that could prevent many other diseases. Let's stick with our commitments to break unhealthy habits this year. Be a blessing to your heart.
AARP helps people turn their goals and dreams into real possibilities, strengthens communities and fights for and equips Americans 50 and older to live their best lives. Discover all the ways AARP can help you, your family and your community at AARP Black Community.
Photo: Courtesy of Omarosa Manigault
Also of Interest

See the AARP home page for deals, savings tips, trivia and more