COVID-19 at Two Years: Lessons for the Future
By Debra Whitman, March 11, 2022 09:14 AM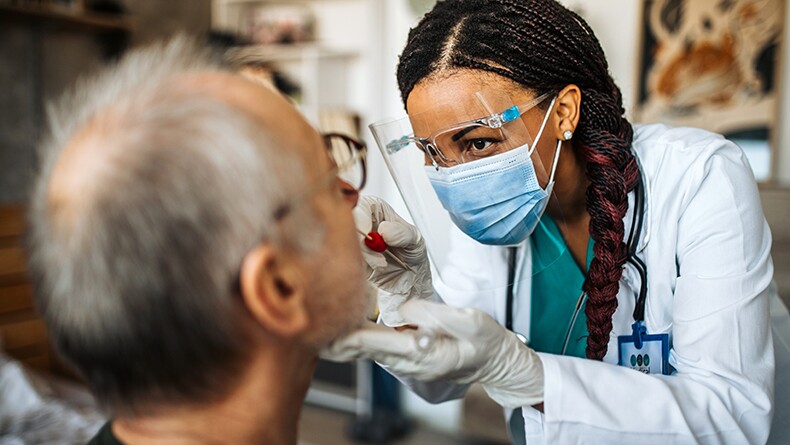 As we pass the second-year anniversary of the COVID-19 pandemic, there is no question that it has disproportionately impacted older people. More than 93% of COVID-19-related deaths in the U.S. – nearly 880,000 – have been people ages 50 and older. Clearly, the pandemic has exposed grave shortcomings in how we support an aging society. But two years of this public health crisis have also clarified the steps needed to establish a more secure future for all.

Through research, polling and policy analysis, AARP has shared our insights into the needs of older adults and helped shape the nation's understanding of the pandemic's impact. For the last two years, we have provided trustworthy, actionable information to the public and policymakers around the country – and around the world.

The life-and-death importance of information became apparent as the pandemic ravaged nursing homes in early 2020. In response, AARP collaborated with the Scripps Gerontology Center at Miami University to create the AARP COVID-19 Nursing Home Dashboard, which tracks the number of resident deaths, resident cases, staff cases, shortfalls in staffing and personal protective equipment, and vaccination and booster rates among residents and staff.

The Dashboard quickly became a go-to source for understanding the pandemic's terrible toll on nursing homes – more than 150,000 resident and staff deaths as of this writing, and that number undercounts the true magnitude by tens of thousands. The numbers documented the lack of personal protective equipment and high infection rates among staff, while also revealing that vaccinations were providing a powerful defense against illness and death. And they highlighted stark variations among nursing homes by state and location.

Based on these facts, AARP called on nursing homes to require vaccinations, a policy subsequently adopted by the Centers for Medicare & Medicaid Services, no doubt saving many lives. More recently, we urged nursing homes to require boosters for all residents and staff.

But action must not only address the short term. The death toll in nursing homes and other data illustrates a major takeaway at the pandemic's two-year mark: the need to transform long-term care in America.

We know from surveys and studies that most people who deal with chronic ailments wish to remain in their homes and communities, yet many lack that option. Family caregivers often struggle with out-of-pocket costs and complex care duties they increasingly must perform. The long-term care workforce needs greater pay, training, and opportunities for career development.

That's a big agenda. To stir this discussion, AARP's Public Policy Institute launched LTSS (Long-Term Services and Supports) Choices, a series of reports, blogs, videos, podcasts, and virtual meetings on ways to transform the system for the benefit of consumers and their families.

We have long known that health care in this country is too expensive. High costs, especially for prescription drugs, are a drain on families' pocketbooks, Medicare, Medicaid, and the entire economy. We spend more than other countries without achieving better results.

And two years of the pandemic have cast light on glaring inequities within the system itself. Underserved populations, notably Black, Latino, and Native American people, have less access to care and often struggle to pay for it. They must contend with societal factors and a history of discrimination that can impair health, such as by limiting their access to care and reducing its quality.

Further, people in these communities often have high rates of underlying health conditions, such as high blood pressure, that may reduce the body's ability to fight disease.

Against that backdrop, Black, Latino, and Native American people have suffered disproportionate rates of infection, hospitalization, and death from COVID-19.

To broaden understanding of this issue and shape better policy answers, AARP tracked how states report COVID-19 by race and ethnicity. This work has pointed to a wide variation in quality of data among the many states. And we have identified best practices, such as requiring that states collect data specific to race and ethnicity.

The data are just a starting point for the broader goal of equity for all. We promoted solutions and strategies through a collection of conversations around the theme of building equity in longevity , culminating with the release of a compendium highlighting ways to address inequities as we continue our work in this area.

While the pandemic has dominated the news and roiled the public debate, it has also brought risks that call out for greater public attention. High up on this list is the impact of COVID-19 on brain health.

To encourage greater awareness, AARP's Global Council on Brain Health released a report highlighting both the direct and indirect threat that COVID-19 poses to cognitive well-being and mental health, particularly for individuals with dementia and family caregivers.

The report summarized what is known about short- and long-term neurological symptoms linked to COVID-19, including brain fog and a heightened risk of dementia. And it provided an array of evidence-based tips on lifestyle practices, such as physical activity and a balanced diet, that foster good brain health.

The pandemic also has undermined people's health and well-being by sparking an epidemic of loneliness and isolation. A 2020 study from AARP Foundation found that two-thirds of adults had experienced isolation and anxiety since the health crisis began. This finding underscored the need for people to find ways to stay connected, and to look out for friends and loved ones who are alone. To address this need, AARP released Boosters for Joy, a resource that provides activities and information to support well-being during a time characterized by social distancing.

Health risks, of course, are not the only way that COVID-19 has shaken society. We found last year that 30 percent of working adults said their financial situation had deteriorated during the pandemic. Of this large group, women, Latino, Black, and lower-income individuals were especially hurt.

Throughout the pandemic, AARP has been tracking and analyzing employment data for people ages 55 and over. Because of the pandemic, one in five older adults retired sooner than planned and many others have considered doing so. These departures have helped fuel a "Great Resignation" that has left many employers scrambling to maintain an adequate workforce.

While individuals leave jobs for many reasons, age discrimination is a pervasive barrier to opportunity in the United States and throughout the world. About eight in 10 older workers – 78 percent – say they have seen or experienced age discrimination, the highest level since 2003. The loss of all this skill and experience comes with a big economic cost. AARP has estimated that age discrimination costs the U.S. economy $850 billion in 2018, and that figure could soar in the coming years as Gen X and millennials age.

The pandemic's two-year milestone is one we never wanted to reach. But it calls on us to envision a better future that is inclusive and equitable. It requires that we apply the lessons learned and take action on multiple fronts.

Among the steps needed:

Overhaul the system of long-term care. Nursing homes, which have suffered devastating losses, need reform and oversight. Family caregivers need better support. Consumers need more choice. We cannot achieve these goals without investing in the long-term care workforce.

Make health care more affordable and accessible for all. We need to eliminate disparities in health care access. Health care costs, especially for prescription drugs, must be contained. Everyone should be able to get adequate insurance. States that have not expanded Medicaid should do so.

Strengthen economic opportunity for older workers. Older workers can contribute greatly to a strong and sustainable recovery, but we must remove barriers like age discrimination. When individuals lose their jobs, financial support must be adequate to cover the longer periods of job search that many older adults face.

The pandemic has cast a spotlight on important work that remains before us. It has reinforced AARP's commitment to policies that will transform long-term care, ensure equity in health care through the course of life, and guarantee fair treatment in the workplace – for the benefit of all generations.